On The Deck at Dockside Lounge
2023

Friday 8:30pm

Saturday at Dusk

Sunday 6pm-9pm

May

27th: Elvis

28th: Wyld Ryce

June

23rd: Johnny Cash & Neil Diamond Tribute

24th: Elvis

July

Every Friday: Johnny Cash & Neil Diamond Tribute

Every Saturday: Elvis

Every Sunday: Passion

August

Every Friday: Johnny Cash & Neil Diamond Tribute

Every Saturday: Elvis

6th & 13th: One Night Stand

20th: Echo

September

2nd: Elvis

3rd: Wyld Ryce

July 4th

Wyld Ryce

6pm-9pm!
Inside Entertainment at Dockside Lounge
Tami & the Bachelor

Mon.-Sat. 9pm:

April 24th-June 17th, Aug. 29th- Sept. 30th

Passion

Tues.-Sat 9pm:

June 20th – July 29th

Doug Allen Nash

Mon.-Sat. 9pm:

July 31 – August 26
| | | |
| --- | --- | --- |
| | | |
| One Night Stand is a group of musicians that perform widely in the lakes area. They craft their own wonderful and unique arrangements of well known songs from a catalog of Rock, Blues, Jazz and Gospel tunes. | Wyld Ryce performs its set list 6pm-9pm on the deck including covers of Huey Lewis, Fleetwood Mac and Bob Seger. | Featuring outstanding lead singers and terrific vocal harmony, ECHO will bring you to your feet with songs ranging from The Beatles to Bonnie Raitt to Little Bigtown. |
Outdoors at Dockside Lounge


Sunday Nights 2023
Dockside Lounge is transformed into Breezy Point's adult playground with the best in entertainment. There is never a cover charge!

May 28 Wyld Ryce 6pm-9pm
July 2 Passion 6pm-9pm
July 4 Wyld Ryce 6pm-9pm
July 9 Passion 6pm-9pm
July 16 Passion 6pm-9pm
July 23 Passion 6pm-9pm
July 30 Passion 6pm-9pm
Aug. 6 One Night Stand 6pm-9pm
Aug. 13

One Night Stand 6pm-9pm

Aug. 20

Echo 6pm-9pm

Sept. 3

Wyld Ryce 6pm-9pm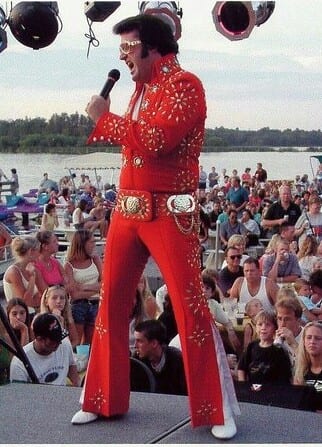 "Memories of Elvis Show"
Saturday Nights: May 27, June 24, July 1, 8, 15, 22, 29, August 5, 12, 19, 26, September 2, 2023, dusk
Chris Olson wows the crowds with his "Memories of Elvis Show" outside on the Dockside Stage, for 28 consecutive summers now. His performance starts between 8:00 and 9:00pm, (when the sun starts to go down behind the tree's) Chris has brought his Tribute Show to Minnesota's We-Fest, and Wisconsin's Country Fest. And also did an opening at the Fiesta Hotel in Las Vegas. He's pleased many with several private and public bookings through the years. "You're going to want to be here at Breezy Point Resort for Chris Olson's Elvis Tribute Shows."
Johnny Cash and Neil Diamond Tribute – One Main Event

Friday Nights: June 23, 30 July 7, 14 ,21 ,28 August 4, 11, 18, 25, 2023, 8:30pm
From the Hard Rock Hotel & Casino in Las Vegas to Breezy Point Resort, MN. The NAME says it all! The first half of this exciting multi-media theatrical production is "The #1 Tribute to Johnny Cash." Hear the great "Man In Black" familiar classics including "Ring of Fire," "Walk The Line," "Get Rhythm," "Sunday Morning Coming Down," "Stripes Around My Shoulder," and lots more. After intermission, audiences are on their feet during Doug's dazzling tribute to Neil Diamond featuring his greatest hits, "Cracklin' Rose," "Sweet Caroline," "America," "Forever in Blue Jeans," "Play Me," and many more. This spectacular evening also features The Nash A-List Big Band, great charts, lighting and a stunning video wall highlighting the lives of Cash, Diamond and Nash A country boy at heart,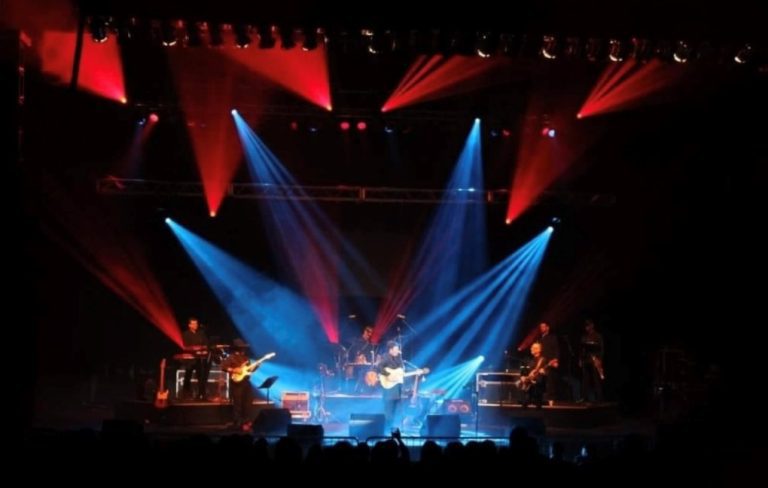 Doug grew up on a farm in northwest Illinois near a town on the banks of the Mississippi River. He began performing in local talent shows at age five; and had formed his own band by age twelve. That same year his parents took him to a Johnny Cash Concert, one of several he would attend over the years. Nash has entertained our troops overseas with the USO, touring 87 countries. A chance meeting at that time with Johnny Cash in a Copenhagen, Denmark airport inspired him to create "The Johnny Cash Tribute Show." He ultimately added another American icon, Neil Diamond. Nash's rich baritone just happens to be in the same vocal range as both Cash and Diamond. "Doug Allen Nash 'channels' these two American icons." High praise from Chicago's top-rated WGN-TV Morning News after a recent guest appearance. Doug captures the essence of both legendary performers in his own style and with his own passion for their music. Nash has the blessing of Johnny and June Carter Cash's Grammy Award-winning son John Carter Cash who heads Cash Cabin Studios in Hendersonville, Tennessee. It is where his parents recorded most of their later music, and where Doug records his outstanding CD's. When this ruggedly handsome and gifted singer and musician hits the stage you know you are in the presence of a dynamic star and the consummate showman. Doug Allen Nash loves to entertain and it comes straight from his heart to his audience. Every night's a party when this captivating entertainer is onstage He is dedicated to keeping the legacies of these two American Icon artists alive. Doug's enormous gifts as a singer, musician and dazzling entertainer have audiences applauding his showstopping concerts in theatres, resorts and casinos from coast to coast, including the legendary Caesars Palace on the Las Vegas Strip and The Hard Rock Hotel and Casino, Nashville's Opryland Hotel, and the Taj Mahal in Atlantic City. He was also invited to headline "The 20th Anniversary Johnny Cash Concert" at Hollywood's famed Viper Room. Nash is also a songwriter and longtime member of SESAC. His song "June" is dedicated to June Carter Cash and was recorded at Cash Cabin Studios under the directions of John Carter Cash. One evening, Nash was watching a PBS documentary about Johnny Cash and touched to hear these words from their son about the Cash/ Carter marriage: "He loved her tenderly." It inspired Doug to write this beautiful and heartfelt ballad. Doug is a member of the SAR, and always proud to acknowledge that he is a direct descendant of John Hart, one of the 56 signers of the Declaration of Independence. His patriotic spirit is always
present during his shows. You'll see that at every performance. Watch Video!

Indoor Music at Dockside Lounge
Doug Allen Nash
July 31 – August 26, 2023 Mon. – Sat. 9pm
SESAC affiliated writer/publisher and Nashville recording artist Doug Allen Nash has performed internationally in over 85 countries while touring for USO, MWR, and Armed Forces Entertainment. He was a featured artist on the Armed Forces Network commercial in Europe, appeared on radio and television interviews as well as radio play on Europe's Top 200 Country Charts scoring a #5 top 10 hit in March of 2016. Currently on the airwaves in over 17 countries and appearing as a regular on the Penny Gilley Show RFD-TV Seasons 21 & 22. Nash will be appearing on RFD-TV's TruCountry this season. Nash has also performed nationally from the Las Vegas strip to major casinos and resorts such as Sun Valley, Idaho, New York City's Cutting Room, Opryland Hotel Nashville, and Taj Mahal in Atlantic City. He has been the opening act for Wayne Newton, Charlie Daniels, Huey Lewis and the News, The Oak Ridge Boys, Montgomery Gentry and other national recording artists as well as being the house band for the largest grossing venue in Texas, City Streets. Nash co-produced the trademark show 'Almost Angels', a long-running production in Atlantic City. Nash will also be appearing in a motion picture. He is always surrounded by exceptionally talented musicians, performing songs from Classic Rock, Motown, Current Country hits & Top 40. Watch Video!
Tami and the Bachelor
April 24th-June 17th, Aug. 29th- Sept. 30th Mon.-Sat. 9pm 2023
When you see Tami and Phil they will entertain you with songs from: Amy Winehouse, Fleetwood Mac, George Gershwin, Jethro Tull, Patsy Cline, Greenday, Led Zeppelin, Linda Ronstadt, Lady Gaga, Katy Perry and lots more!
Passion
Tues.-Sat: June 20th – July 29th 9pm 2023
These four personable entertainers provide the most fun and exciting "live" performances you can experience. Passion offers big fun, high energy, quality musical entertainment that keeps the crowds rockin and the hits rollin! Add charisma, exceptional vocals, world class musicianship, crowd pleasing interactivity, and satisfy your insatiable appetite for fun!
Pelican Lights DJ
Winter Weekends through April 22nd Fri. & Sat. nights at 9pm!