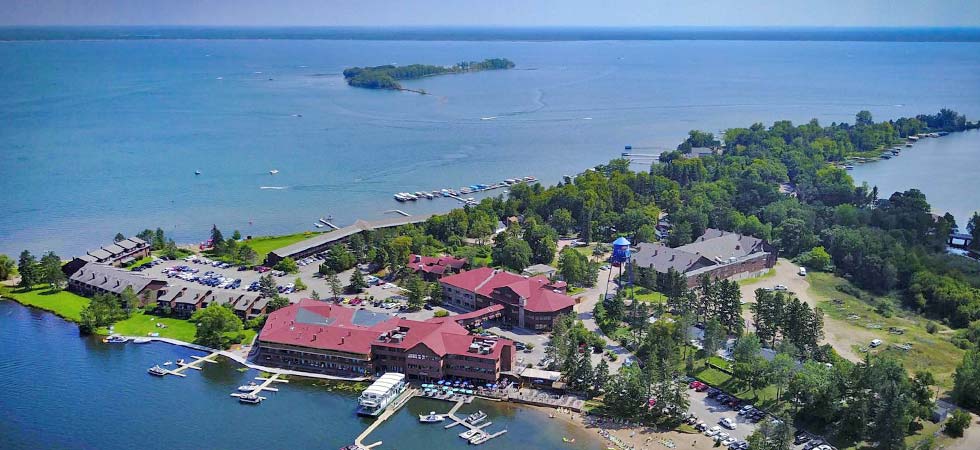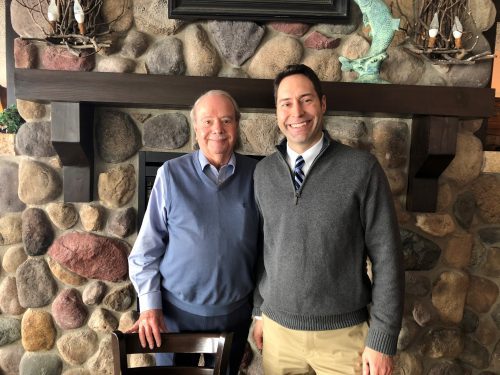 The Resort features a convention center, three 18-hole golf courses, boat marina, ice arena, four restaurants, four bars, recreation center and rental accommodations with approximately 250 rental units ranging from hotel rooms, suites, condos, multiple bedroom cabins. In addition, the resort functions as a rental agent with approximately 50 privately owned units, ranging from one bedroom accommodations to four bedroom homes.
In the center of the resort is the 118 room Breezy Point Inn & Suites combining Executive Suites, Kings and Double Queen room types. Each room is equipped with microwave and refrigerator. The Executive Suites also include whirlpool tub, fireplace, and kitchenette. Beautiful log furnishings (made in Nisswa) and décor in the "Up North" hues (made in Crosslake), log and stone exterior and views of Breezy Bay and Pelican Channel complement the Inn & Suites.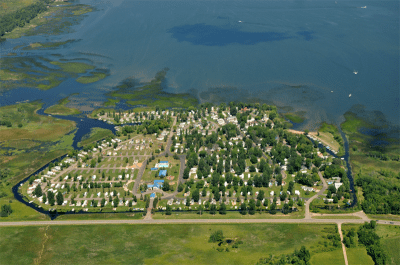 Mille Lacs Island Resort
Phone: 800-247-1598
Mille Lacs Island Resort is a 50-acre year-round RV Resort located on an island of Mille Lacs Lake, near Wahkon, MN, approx. 90 miles northwest of the Twin Cities. Mille Lacs Lake has the reputation as the best Walleye lake in Minnesota.
Amenities include outdoor swimming pool with shower/restroom facility, fitness center, laundry facilities, recreation center, playground, picnic pavilion, convenience store, boat storage, docks, boat ramp and onsite manager housing.
The Resort is home to approximately 375 seasonal campsite users. It is recognized as a five-star resort within its industry,
Forest Hills Golf & RV Resort
Located in Detroit Lakes, MN, Forest Hills Golf & RV Resort 218-439-6400
When fully developed, the Resort will have 550 camp sites. All are equipped with water, sewer, electricity and telephone hookups. Amenities at this resort include an 18-hole championship golf course, pro shop, 18-hole extreme miniature golf, two restaurants, laundry building, recreation center which houses an indoor pool, hot tub, fitness center, sales office, convenience store, campground office, game room and manager's apartment.
Izzos Sports Bar & Restaurant is open year round and serves private parties.
Resort Park Model Sales
800-247-1598
Resort Park Model Sales promotes the sale and set up of affordable park model vacation homes throughout Minnesota. All models have uniquely designed interiors and exteriors with a variety of floor plans to choose from.
Breezy Point Sports
218-562-7970 ext 5678
www.breezypointsports.com
Breezy Point Sports owns and operates the Breezy Point Hockey Center and lodging facility.
Designed for both hockey and figure skating, the arena is home ice to the Pequot Lakes high school hockey team, Pequot Lakes Youth Hockey Association, Breezy Point Figure Skating Academy, physical education programs for local elementary schools and the Breezy Point North Stars NAHL team.
Hockey and figure skating camps are predominant during the summer months of June, July and August featuring such users as Top Dog, Turcotte Hockey and the Minnesota High School Girls Coaches Association Select Camp. The Arena also hosts its own highly regarded Figure Skating Camp, "Point of Perfection" promoting a professional staff of World and Olympic Trainers.
The adjacent 13,000 sq. ft arena lodge offers dormitory accommodation for up to 100 people and features two large bath/shower rooms, full kitchen, cafeteria, weight training room, TV room, and a lounge area with fireplace. Although usage is primarily figure and hockey camps during the summer months, year around family reunions & youth organizations have enjoyed usage of this facility also.
Breezy Point Real Estate Inc. (BPRE)
800-247-1350
www.breezypointrealtors.com
Breezy Point Real Estate Inc. handles the real estate market demands within the City of Breezy Point and surrounding areas.