Breezy Point Resort is built on land acquired in 1921 by millionaire publicist Wilfred Hamilton Fawcett ("Captain Billy Fawcett"), the flamboyant and charismatic publishing giant and owner of Fawcett Publishing, creator of the famous Whiz Bang Magazine.
Through his charismatic personality and his many contacts in the publishing and motion picture industry, Breezy Point Resort became a mecca for the rich and famous during the Roaring 20's, playing host to movie stars including Clark Gable, Carole Lombard, Tom Mix and Jack Dempsey.
Captain Billy Fawcett embarked upon an aggressive building program at the Resort, including the construction of a magnificent lodge using native Norway pines, some of which exceeded 70 feet in length. The lodge was one of the largest in existence at the time, accommodating up to 700 people. The exquisite personal mansion built for Captain Billy, the Fawcett House, has been preserved and remains a focal point of the Minnesota Resort today. It is listed on the National Register of Historic Places. The Fawcett House has become a favorite of returning families and other groups with its 11 bedrooms, 9 baths, fireplaces and rustic elegance.
Whitebirch, Inc. was established in 1974 for the purpose of developing and marketing approximately 3,000 acres surrounding Breezy Point Resort. Whitebirch originally concentrated its activity on the development of subdivisions for single family residential lots and camping sites.
The Resort was acquired by Whitebirch in 1981 and began developing and marketing condominium interval ownership units.
Timesharing at Breezy Point Resort began in 1981 with the remodeling of ten individual units known today as the Chalets. An additional 222 timeshare units have since been constructed with more in the planning. Over the years, approximately 12,000 owners have purchased vacation ownership interests here.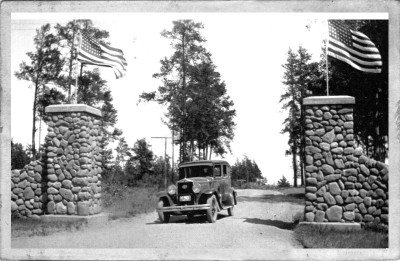 The Resort is a member of Resort Condominiums International, (RCI), a timesharing exchange organization. Owners at Breezy Point Resort have the opportunity to trade their timeshare at over 3,700 affiliated resort locations in 100 countries worldwide.
RCI has selected Breezy Point Resort as one of its "Resorts of Distinction" every year since 1984, and has awarded its highest designation of "Gold Crown" status for its superior facilities and service.
The Resort features a convention center, three 18-hole golf courses, boat marina, ice arena, four restaurants, four bars, recreation center and rental accommodations with approximately 250 rental units ranging from hotel rooms, suites, condos, multiple bedroom cabins. In addition, the resort functions as a rental agent with approximately 50 privately owned units, ranging from one bedroom accommodations to four bedroom homes.
In the center of the resort is the 118 room Breezy Point Inn & Suites combining Executive Suites, Kings and Double Queen room types. Each room is equipped with microwave and refrigerator. The Executive Suites also include whirlpool tub, fireplace, and kitchenette. Beautiful log furnishings (made in Nisswa) and décor in the "Up North" hues (made in Crosslake), log and stone exterior and views of Breezy Bay and Pelican Channel complement the Inn & Suites.