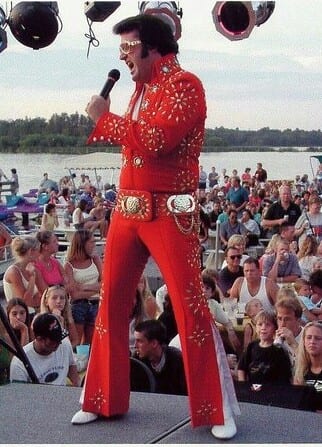 "Memories of Elvis Show"
Chris Olson wows the crowds with his "Memories of Elvis Show" outside on the Dockside Stage, for 27 consecutive summers now. His performance starts between 8:00 and 9:00pm, (when the sun starts to go down behind the tree's) Chris has brought his Tribute Show to Minnesota's We-Fest, and Wisconsin's Country Fest. And also did an opening at the Fiesta Hotel in Las Vegas. He's pleased many with several private and public bookings through the years.
"You're going to want to be here at Breezy Point Resort for Chris Olson's Elvis Tribute Shows."
Interested in booking Elvis? Call Mary-Ann at 612-860-6078!
2023 Elvis Sightings
Saturday Nights: May 27, June 24, July 1, 8, 15, 22, 29, August 5, 12, 19, 26, September 2, 2023, dusk